We deliver projects that work!
We know how to turn great ideas into successful projects because we are running our own
Solutions We Create
Having passed at times complicated but always victorious path, we've caught up on the several domains where we consider ourselves true experts. Here are some of the main business frames where we specifically shine:
CRM Systems
The ultimate goal of any CRM system is to improve relationships with existing and potential clients. CRM is an inevitable attribute of any business, especially if it's a custom built evolving piece of software where all the business needs are considered.
Custom Web Applications
Whether it's a stand-alone application that solves very specific needs of a single enterprise or a custom add-on developed to work with Treepl website via API - we can handle it all from design to deployment.
IoT Systems
Remote device management requires stable software that allows organization's employees to view, analyze and manipulate data collected from sensors, switchers or any other IoT devices. Such software can be managed via single-screen web dashboard and/or mobile app by users with pre-defined restrictions and access levels.
Marketplaces
It's 2019 outside. People spend more than 1.5 trillion dollars in ecommerce transactions yearly and a big chunk of it belongs to marketplaces like Airbnb and Etsy. Typical marketplace implies payment operations (both sending and receiving payments), mapping, rating, in-app chatting, etc.
Our Expertise
Check out the technology stack we know in and out. Also, keep in mind that we are capable of delivering the full cycle of project development including specification writing and project deployment.
Frontend
HTML / CSS / SCSS / Stylus
jQuery / Angular / Vue.js
Backend
.NET Core, Umbraco CMS
PHP: Laravel / Yii frameworks
UI/UX
Photoshop, Figma
InVision, Zeplin
QA Testing
Manual Testing
Unit Testing
DevOps
Amazon Web Services
Docker
Business Analysis
Creating the SRS
Writing User Stories
Featured Projects
The projects we are very proud of. Each one of them is a custom built solution that successfully serves its users since launch. We'll be happy to deliver the same outstanding results for your project too!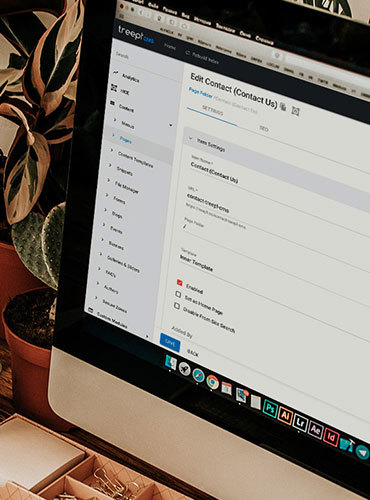 Treepl CMS
All-in-one website management and hosting platform. Available on 4 data centers. Choice of digital agencies from 12 countries. Fully owned, developed, maintained and managed by Upgrade Parade, LLC
visit site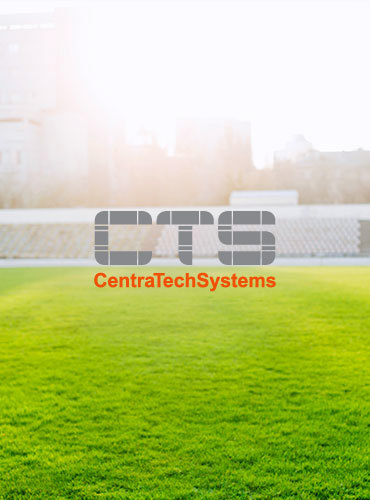 FieldMouse by CTS
Sophisticated multi-level system that remotely manages various physical devices utilizing IoT capabilities of Amazon Web Services. Currently operating on several government and enterprise objects in Australia. Developed and supported by Upgrade Parade team.
visit site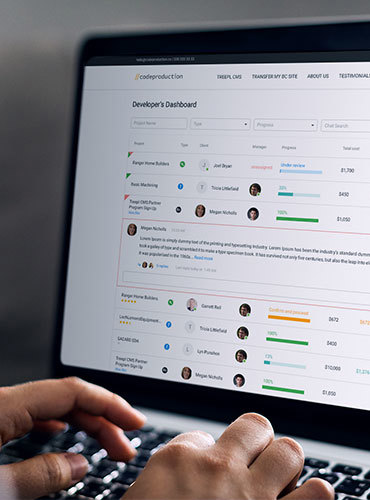 Code Production CRM
All-in-one system custom built by Upgrade Parade to serve its clients (initially Business Catalyst Partners). It includes tools for easy project management, scoping, development tracking, billing, communication (chat), user management and statistics.
visit site
About Us
We make it easier for any digital agency or individual web designer to deliver high-end solutions of any complexity
2009
The year we started in a rented basement with 2 laptops and well- thought-out world domination plan
328
Number of clients we successfully served and continue serving
1,309
Projects accomplished, from small to large
All the project management, project scoping, communication processes, project development environment are already organized for you and handled through our system. You'll find it super easy and convenient from the very start!
How We Perform?
Whether it's a huge enterprise venture or an MVP experiment, it's always worth determining the very right approach of development. We're quite flexible with the work models and are ready to advise the best one for your idea/project.
Get in Touch
Let us know how we can help!
Tell Us About Your Project
What's Next?
After we receive your request our manager will contact you to clarify details. We normally reply within one business day.
Next, we'll schedule an online call with our team, for video calls we use Zoom or Skype. Every meeting is hosted by our project manager and at least one senior technical specialist.
After the call will follow up with a ballpark estimation of the project together with a recommended stack of technologies.
After finalizing the budget and stages of development we are ready to start turning your idea into success!